What is IELTS?
Here's all you need to know about IELTS:
IELTS (the International English Language Testing System) is the world's most popular English language test for work, study, and migration.
More than 10,000 organisations trust IELTS as a reliable indicator of true to life ability to communicate in English.
IELTS assesses a test taker's English language proficiency across four skills: listening, reading, writing, and speaking.
Delivered on either a computer or paper, IELTS is the only high-stakes language test recognised for migration across Australia, Canada, New Zealand, and the United Kingdom.
IELTS is graded on a scale of 1-9. IELTS is designed to assess English language skills across a wide range of levels. There is no such thing as a pass or fail in IELTS. Results are reported as band scores on a scale from 1 (the lowest) to 9 (the highest).
IELTS is jointly owned by the British Council; IDP IELTS; and Cambridge University Press & Assessment.
There are two modules to choose from – Academic and General Training.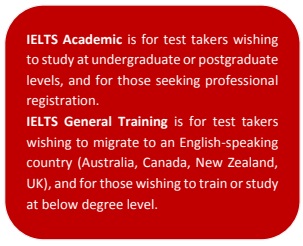 How IELTS is developed
IELTS is developed to provide a fair and accurate assessment of English language proficiency.
Test questions are developed by language specialists from Australia, Canada, New Zealand, the UK and the USA. The test covers four sections: Listening, Reading, Writing and Speaking.
IELTS test content reflects everyday situations. It is unbiased and fair to all test takers from all backgrounds.
IELTS is a test of all four language skills – Listening, Reading, Writing and Speaking. You will take the Listening, Reading, and Writing tests all on the same day one after the other, with no breaks in between. For the Speaking test, you can book a slot online on your preferred date and time. If you fail to choose a slot within the stipulated time, a slot will be automatically allocated to you. The total test time is under three hours.
Should I take IELTS on computer or paper?
If you are not sure whether you should take your IELTS test on a computer or paper, we will take a closer look at both test delivery formats that will help you make the right choice.
You can choose to take IELTS on a computer or paper for both the General Training and Academic tests.
The test format, question types, time allocated to each test part and content is the same for both IELTS on computer and IELTS on paper test. The only difference is in your test day experience.
If you choose to complete your IELTS test on a computer, you will do the Reading, Listening, and Writing parts of the test using a computer. The IELTS Speaking test remains the same, with a face-to- face interview with an examiner. The Speaking test will be completed either just before, or just after the Reading, Listening, and Writing test.
If you take IELTS on paper, you will complete the Reading, Listening and Writing parts on paper. The Speaking test is completed in a face-to-face interview with an IELTS examiner, and this can be done one week before or after your test date. In the IELTS on paper test, the Writing, Reading, and Listening tests are all completed on the same day with no breaks between each test.
Let's take a quick look at the difference between IELTS on paper and IELTS on computer.