3 Ways Social Media Affects Our Mental Health
17 April 2023

Posted by:

admin-rashtielts

Category:

Articles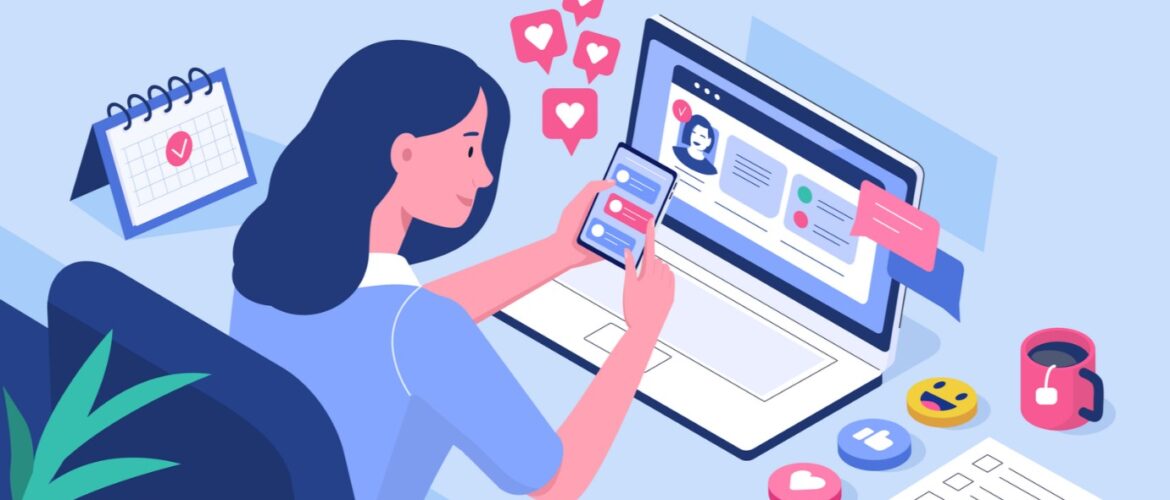 The article below is taken from 'Forbes' aiming to help IELTS candidates boost their vocabulary and have enough ideas for them to fully cover any topic in Speaking and Writing. The useful ideas are written in Bold, collocations are shown in red with relevant terms being underlined, followed by their definitions coming along.
 3 Ways Social Media Affects Our Mental Health
It's addictive
Experts have not been in total agreement on whether internet addiction is a real thing, let alone social media addiction, but there's some good evidence that both may exist. A review study from Nottingham Trent University looked back over earlier research on the psychological characteristics, personality and social media use. The authors conclude that "it may be plausible to speak specifically of 'Facebook Addiction Disorder'…because addiction criteria, such as neglect of personal life, mental preoccupation, escapism, mood modifying experiences, tolerance and concealing the addictive behaviour, appear to be present in some people who use social networks excessively." (They also found that the motivation for people's excessive use of social networks differs depending on certain traits—introverts and extroverts use it for different reasons, as do people with narcissistic traits. But that deserves a piece of its own.)
And studies have confirmed that people tend to undergo a kind of withdrawal: A study a few years ago from Swansea University found that people experienced the psychological symptoms of withdrawal when they stopped using (this went for all internet use, not just social media). Their recent follow-up study found that when people stop using, they also undergo small but measurable physiological effects. Study author Phil Reed said, "We have known for some time that people who are over-dependent on digital devices report feelings of anxiety when they are stopped from using them, but now we can see that these psychological effects are accompanied by actual physiological changes." Whether this is true of social media per se is unclear right now, but anecdotal evidence suggests it may be.
It triggers more sadness, less well-being
The more we use social media, the less happy we seem to be. One study a few years ago found that Facebook use was linked to both less moment-to-moment happiness and less life satisfaction—the more people used Facebook in a day, the more these two variables dropped off. The authors suggest this may have to do with the fact that Facebook conjures up a perception of social isolation, in a way that other solitary activities don't. "On the surface," the authors write, "Facebook provides an invaluable resource for fulfilling such needs by allowing people to instantly connect. Rather than enhancing well-being, as frequent interactions with supportive 'offline' social networks powerfully do, the current findings demonstrate that interacting with Facebook may predict the opposite result for young adults—it may undermine it."
In fact, another study found that social media use is linked to greater feelings of social isolation. The team looked at how much people used 11 social media sites, including Facebook, Twitter, Google+, YouTube, LinkedIn, Instagram, Pinterest, Tumblr, Vine, Snapchat and Reddit, and correlated this with their "perceived social isolation." Not surprisingly, it turned out that the more time people spent on these sites, the more socially isolated they perceived themselves to be. And perceived social isolation is one of the worst things for us, mentally and physically.
Comparing our lives with others is mentally unhealthy
Part of the reason Facebook makes people feel socially isolated (even though they may not actually be) is the comparison factor. We fall into the trap of comparing ourselves to others as we scroll through our feeds, and make judgements about how we measure up. One study looked at how we make comparisons to others posts, in "upward" or "downward" directions—that is, feeling that we're either better or worse off than our friends. It turned out that both types of comparisons made people feel worse, which is surprising, since in real life, only upward comparisons (feeling another person has it better than you) makes people feel bad. But in the social network world, it seems that any kind of comparison is linked to depressive symptoms.
All of this is not to say that there's no benefit to social media—obviously it keeps us connected across great distances, and helps us find people we'd lost touch with years ago. But getting on social when you have some time to kill, or, worse, need an emotional lift, is very likely a bad idea. And studies have found that taking a break from Facebook helps boost psychological well-being. If you're feeling brave, try taking a little break, and see how it goes. And if you're going to keep "using," then at least try to use in moderation.
ON-TOPIC ITEMS:
Plausible: adjective UK

 /

ˈplɔː.zə.bəl/ US 

/ˈplɑː.zə.bəl/
seeming likely to be true, or able to be believed
Preoccupation: noun [ C ] UK 

/priːˌɒk.jəˈpeɪ.ʃən/

US 

/priːˌɑː.kjəˈpeɪ.ʃən/
an idea or subject that someone thinks about most of the time
criterion: noun [ C ] UK /kraɪˈtɪə.ri.ən/ US /kraɪˈtɪr.i.ən/ plural criteria UK

/-ri.ə /

US/-ˈtɪr.i.ə/
a standard by which you judge, decide about, or deal with something
escapism: noun [ U ] UK  /ɪˈskeɪ.pɪ.zəm/ US 

/ɪˈskeɪ.pɪ.zəm/
a way of avoiding an unpleasant or boring life, especially by thinking, reading, etc. about more exciting but impossible activities.
Tolerance: noun UK 

/ˈtɒl.ər.əns/

US 

/ˈtɑː.lɚ.əns/
the ability to deal with something unpleasant or annoying, or to continue existing despite bad conditions
conceal: verb [ T ] UK 

/kənˈsiːl/

US  /kənˈsiːl/
to prevent something from being seen or known about
excessively: adverb UK 

/ekˈses.ɪv.li/

US 

/ekˈses.ɪv.li/
in a way that is too much
trait: noun [ C ] UK  

/treɪt/

US

 

/treɪt/
a particular characteristic that can produce a particular type of behaviour
narcissistic: adjective   PSYCHOLOGY  disapproving UK  /ˌnɑː.sɪˈsɪs.tɪk/ US  /ˌnɑːr.səˈsɪs.tɪk/
having too much interest in and admiration for yourself
withdrawal symptoms: noun UK 

/wɪðˈdrɔː.əl ˌsɪmp.təmz/

US 

/wɪðˈdrɑː.əl ˌsɪmp.təmz/
the unpleasant physical and mental effects that result when you stop doing or taking something
confirm: verb UK 

/kənˈfɜːm/

US 

/kənˈfɝːm/
to prove or state the truth of something that was previously not completely certain
undergo: verb [ T ] US 

/ˌʌn·dərˈɡoʊ/
to experience something that is unpleasant or has a strong effect:
accompany: verb [ T ] UK 

/əˈkʌm.pə.ni/

US 

/əˈkʌm.pə.ni/ 
to be provided or exist at the same time as something
anecdotal: adjective UK  /ˌæn.ɪkˈdəʊ.təl/ US 

/ˌæn.ɪkˈdoʊ.t̬əl/
Anecdotal evidence/information is not based on facts or careful study
Trigger: verb [ T ] UK  /ˈtrɪɡ.ər/ US  /ˈtrɪɡ.ɚ/
to cause something to start:
conjure something up: phrasal verb UK  /ˈkʌn.dʒər/ US  /ˈkʌn.dʒɚ/
to make a picture or idea appear in someone's mind
perception: noun [ C or U ] UK  /pəˈsepʃən/ US /pɚ-/
the way that someone thinks and feels about a company, product, service, etc
interaction: noun [ C or U ] UK 

/ˌɪn.təˈræk.ʃən/

US  

/ˌɪn.t̬ɚˈræk.ʃən/
an occasion when two or more people or things communicate with or react to each other
undermine verb [ T ] US  /ˌʌn·dərˈmɑɪn/
to gradually weaken or destroy someone or something
correlate: verb [ I or T ] UK 

/ˈkɒr.ə.leɪt/

US  /ˈkɔːr.ə.leɪt/
If two or more facts, numbers, etc are correlated, there is a relationship between them
well-being: noun [ U ] UK  /ˌwelˈbiː.ɪŋ/ US  /ˌwelˈbiː.ɪŋ/
the state of feeling healthy and happy
(in) moderation: noun [ U ] UK 

/ˌmɒd.ərˈeɪ.ʃən/

US  /ˌmɑː.dəˈreɪ.ʃən/
the quality of doing something within reasonable limits
---
Selected and Edited by: Pouya Sharifi
Javidan Language Centre
www.rashtielts.ir
---