Subordinating Conjunctions (Manner)
19 August 2023

Posted by:

admin-rashtielts

Category:

Grammar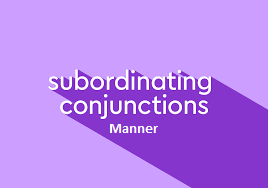 Subordinating Conjunctions
(Manner)
Subordinate clauses starting with the subordinating conjunctions of manner are called adverb clauses of manner. An adverbial clause, also known as an adverb clause, is a group of words that forms a dependent clause and acts as an adverb in a sentence. Adverbial clauses contain a subject, a predicate, and a subordinating conjunction. As with other adverbs, adverbial clauses modify an adjective, a verb, or another adverb.
There are several different types of adverbial clauses, each with its own set of common conjunctions and functions. We are focusing on one type only in this paper:
Adverbial Clause of Manner:
 These adverbial clauses often use "as", "like", "as if" and "as though" to explain how something is done.
1. As:
As is used to show how something is done
He behaves as he does, because his mother was totally cruel to him.
The bricks are still made as they were in Roman Times.
You can use just, exactly and precisely in front of as for emphasis.
For example :
I like the freedom to plan my day exactly as I want.
 2. As if / as though:
As if / as though are used to show that the information might not be correct
She reacted as if she didn't know who stole the ring.
She acts as though she is the boss.
After as if or as though, we often use a past tense to emphasize that the information is not true.
He looked at me as though I were mad.
3. Like:
Like is used in informal speech to show how someone feels, looks or sounds.
You look like you've seen a ghost.
He talks just like his father does.
You can also use like in prepositional phrase to say how someone does something.
He was sleeping like a baby.
---
Selected and Edited by: Mahdis Ramezanpour
Javidan Language Centre
www.rashtielts.ir
---
Click here to download the printable copy of this lesson.